A private equity fund is an investment instrument that pools third-party resources to provide long-term financing to companies (or projects) through equity or quasi-equity instruments. However, its goal goes beyond deployment capital into companies, the fund is a value-generation mechanism or "smart money".

Every fund has an expert investment management team (General Partner), who oversees the selection the companies and projects that receive the fund's resources, always with the aim of obtaining a return from the value generation in them.
Types of funds
Various types of funds are usually grouped under the category of Private Equity; for example, these can be differentiated according to the stage of maturity of the companies in which they invest, including:
Buyout and Growth Funds: funds that invest in companies with a proven market track record that require resources, mainly, for consolidation and / or expansion into new markets. These funds usually acquire the entire equity of the company, or a majority position

Venture Capital Funds: funds that invest in innovative companies, which are in the initial stages of operation, have a minimum viable product, and require resources for their growth. These funds tend to acquire minority positions within the capital of the venture and are highly involved in its management.

Impact Funds: funds that seek, in addition to financial profitability, a positive social or environmental impact. They primarily invest in early-stage companies, whose business models have been built around achieving a positive social or environmental impact. These funds usually accompany their investment with a technical assistance solution.
Although the main investment instrument of a fund is equity or quasi equity, they can also use debt instruments to finance companies. Thus, there are funds dedicated exclusively to financing companies through Private Credit. These may be focused on: i) ventures that are not served by the traditional financial system or ii) mature companies that already have high bank indebtedness and require another source of financing. The debt of a private credit fund tends to differ from that of the traditional financial system, in that it is long-term, structured, and with more complex guarantee mechanisms.
Colombia
The foundations of the private equity industry in Colombia began to be forged in 2005, based on the first regulatory guidelines that would later allow, in 2010, the issuance of Decree 2555, which dictates the general rules under which they must operate, as well as the minimum corporate governance bodies, and the rights and obligations of each party involved.
Standard model of a fund in Colombia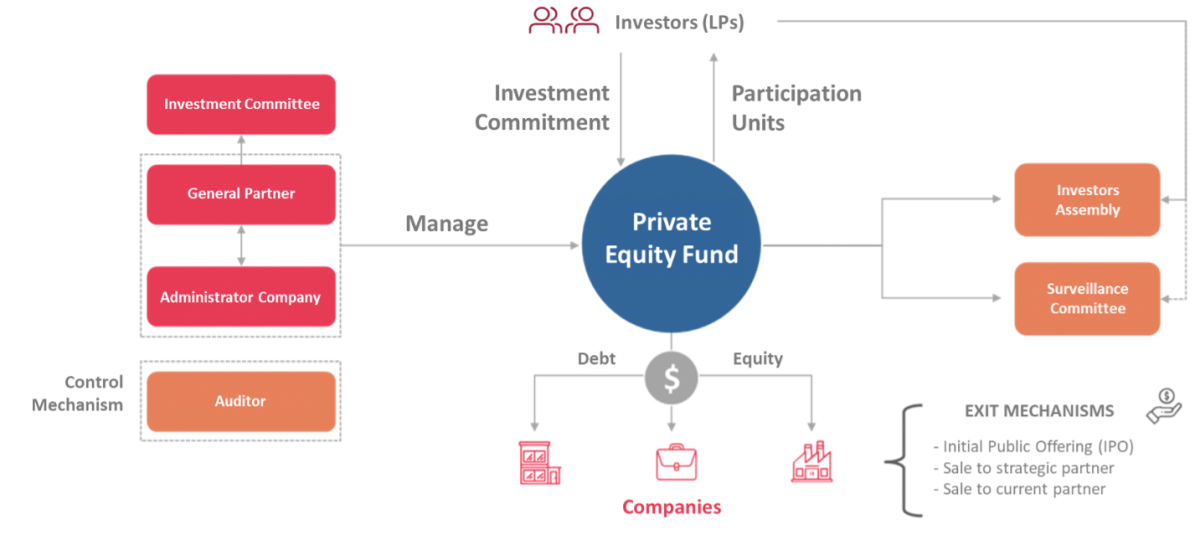 With the aim of contributing to the development of the local private equity ecosystem, Bancóldex has promoted:
Best Practices for Institutional Investors

Education for potential local investors (+50)

Course for investors in private equity funds

May 2016 Universidad de los Andes

May 2019 Universidad EAFIT and ColCapital

Member since 2010 of the Institutional Limited Partners Association - ILPA 

Member since 2010 of the Association for Private Capital Investments in Latin America – LAVCA

Strengthening General Partners

Three versions of the International Venture Capital and Private Equity Program

Over 200 people trained by Josh Lerner, director of the Private Capital Research Institute (PCRI), and professor in Investment Banking at Harvard Business School

Emerging General Partners Program

March 2020 in alliance with ColCapital

Connection of companies with sources of capital

Three versions of the Venture Forum (Bogotá, Pereira, Bucaramanga) to generate connections between companies and funds

More than 80 companies trained, meetings with 80 investors, with an attendance of more than 600 people

Six companies have received investment between USD 200,000 and USD 3,000,000

Awareness about private equity funds for entrepreneurs and unions, nationwide

Investment Promotion in Colombia

Sponsorship of events in Colombia and abroad on private equity funds

6 versions of the Catalog of Private equity and Venture Capital Funds. Replaced in 2017 by ColCapital's Private Equity Industry Yearbook (https://en.colcapital.org/yearbook/)
Additionally, in 2012, in conjunction with IDB Lab and supporting 26 general partners, Bancóldex promoted the creation of the Colombian Association of Private Capital - ColCapital, whose mission is to "Encourage, develop and promote in an integral way the industry of Private Equity Funds in Colombia, as an engine of collective savings and economic growth, under the highest management standards".
You can find more information about private equity funds in Colombia on the association`s website COLCAPITAL