What is the Orange Economy?
---
It is a tool for cultural, social and economic development. It differs from other economies because it is based on the creation, production and distribution of goods and services, whose cultural and creative content may be protected by intellectual property rights.
What are the activities included in the Orange Economy?
---
Orange Economy activities are divided into three groups and are classified by economic activity. A total of 103 economic activities (ISIC codes) are part of this sector. Click here to see all activities..
1. Art and Heritage

   Visual arts
   Performance - Video art - Photography - Sculpture - Painting

    Theater - Dance - Orchestras - Circus - Opera - Concerts

   Tourism and cultural heritage
    Archaeological sites - Historical centers - Festivals - Carnivals - Archives - Libraries - Natural parks - Crafts - Gastronomy - Museums

2. Cultural Industries

    Publishing
   Bookstores - Books - Newspapers - Magazines - Literature

    Radio - Video Television - Film

    Recorded Music          
3. Functional Creations

    Animation - APP and software development - Digital platforms - Interactive content - Video games;

    Furniture - Fashion - Architecture - Industry - Toys, Jewelry - Graphic arts - Illustration - Interiors.

---
Why is the Orange Economy one of Colombia's commitments?
---
According to DANE's Culture Satellite Account* data, the added value of cultural activities in Colombia reached 8.4 trillion pesos in 2016 and its average annual growth has been 5.2% since 2005. About 240 thousand jobs were generated between 2015 and 2017, not including activities related to functional creations.
 * Which only includes: performing arts, visual arts, audiovisual, creation, advertising design, cultural education, games, toys, books, publications and music.
What does the Government do to boost the Orange Economy?

The National Government seeks to establish an institutional agreement within "Pact for Colombia, Pact for Equity" 2018-2022 National Development Plan (PND) so that entities consider including an emphasis on creative and cultural industries within their strategic programs in order to transform this sector into a driver of development, productivity and economic growth. The PND set a 5.1% growth goal in the added value of the Orange Economy sectors for 2022*.*. 
The strategy aims at addressing the seven "i", the action lines where institutions shall work decisively: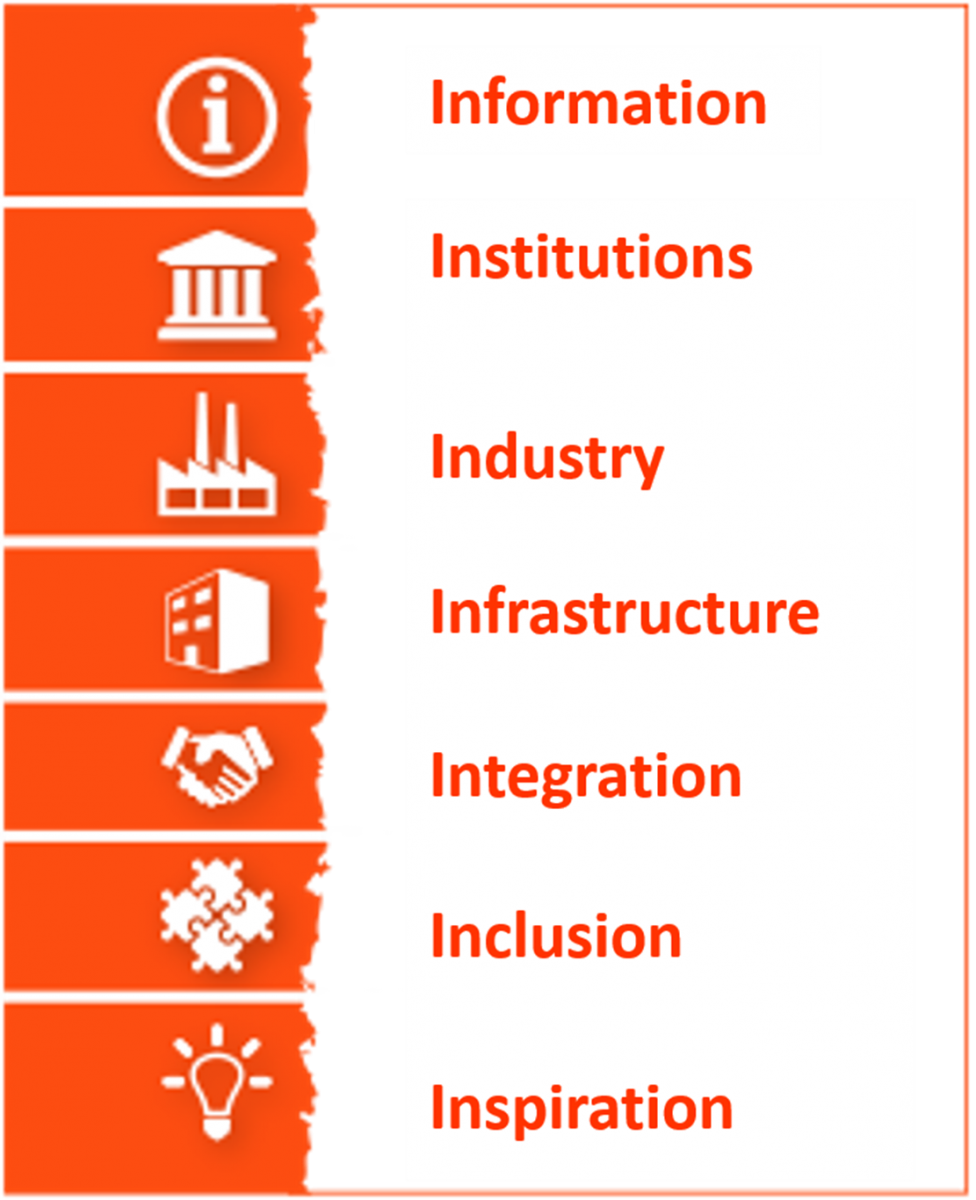 Financing actions are also established within the PND, which are carried out by institutions such as Bancóldex to provide resources for Orange Economy companies to have credit resources for their growth and expansion.
* Added value measures creativity and is obtained by subtracting the cost of raw materials from the cultural good or service. The 2018 indicator – which was at 2.9% – was taken as the baseline. Basis for the 2018-2022National Development Plan (PND).